Recruitment
RECRUIT


Admission Information

New graduates hiring
Job category
[1] General staff
[2] Sales staff
[3] IT job
Treatment / work
Basic salary
Graduated: 210,000 yen
University graduate: 205,000 yen
Junior college / vocational school graduate: 185,000 yen
High school graduate: 166,000 yen
Benefits
Commuter allowance, family allowance, housing allowance, overtime allowance
Salary increase
Once a year (April)
Bonus
Basic: Twice a year (June, December)
* There is a year-end bonus depending on the performance. TOTAL 3 times / year
Location
Assigned to Numazu, Nagaizumi, Shizuoka, Sagamihara, Bando, Ibaraki
Working hours
8: 00-17: 00 (8 hours of actual work) 60 minutes break
Holiday
Annual holiday 105 days
※ 1-2 days / month Saturday work
Various insurance
Health insurance, employee pension, employment insurance, workmen's accident insurance
Employee Welfare
Property savings, retirement allowance, retirement allowance system, paid leave, maternity leave, childcare leave
Mid-career hiring
Job category
[1] Field job course

Driver position
Warehouse worker (loading / packaging)
Moving job
Technical staff (installation work / crane operator)

[2] Business management course

Planning and consulting for logistics outsourcing
Site surveys and estimates for machine transport and installation work
Clerk
General affairs and accounting

[3] Part-time job

Warehouse worker
Moving worker
Heavy worker
Treatment / work
Salary
We will be treated according to occupation, age, experience etc.
Benefits
Commuting allowance, overtime allowance, family allowance, and other various work allowances
Salary increase
Once a year (April)
Bonus
Twice a year (July and December) There are also year-end bonuses depending on company performance.
Location
Head Office, Numazu Kita Sales Office, Shizuoka Sales Office, Nagaizumi Distribution Center
Working hours
8: 00 to 17: 00 (working 8 hours)
Holiday
Sundays, national holidays, designated holidays (Saturday holidays 3rd day / month) 105 holidays a year
Paid vacation, summer vacation, New Year's holiday, congratulations, etc.
Various insurance
Health insurance, employee pension, employment insurance, work injury insurance,
Employee Welfare
Nursery school tie-ups, group insurance, property savings, retirement allowance, lending uniforms, joining Fujiyukai, etc.
FUJIUNYU CORPORATION is located in Shimizu
We are affiliated with "Yumesaki Nursery School" (company-led nursery school).
A company-led nursery is a nursery created by companies to support the creation of a comfortable working environment for employees.
FUJIUNYU CORPORATION takes care of the children of employees.
It is a nursery that can flexibly meet a wide range of needs, from full-time employees to part-time employees four or five hours a day, or two or three days a week.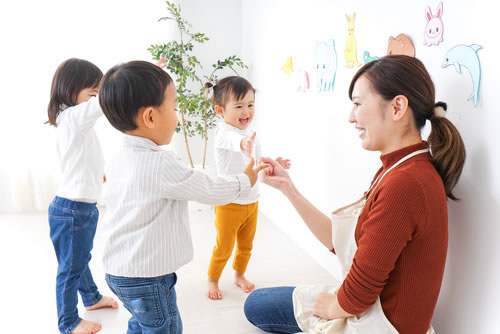 Eligibility and application method
Qualifications
Experience preferential treatment
How to Apply

① Apply from the entry sheet

②Sending documents
(CV / CV / Hello Work introduction letter■)
* Those who have been introduced by Hello Work

Document destination
FUJIUNYU CORPORATION Human Resources and General Affairs Department 
Hiring
〒410-0005 9-11-2 Futaba-cho, Numazu-shi, Shizuoka
TEL: 055-927-2270 / FAX: 055-927-2207
Screening method
Screening method
Examination of documents (resume and job history),
Interviews, written tests, aptitude tests, etc.
Employment Inquiries
For inquiries about recruitment,Entry formWe accept at.
Please call us if you are in a hurry.
FUJIUNYU CORPORATION
Human Resources & General Affairs Department
〒410-0005 9-11-2 Futaba-cho, Numazu-shi, Shizuoka
TEL: 055-927-2270 / FAX: 055-927-2207